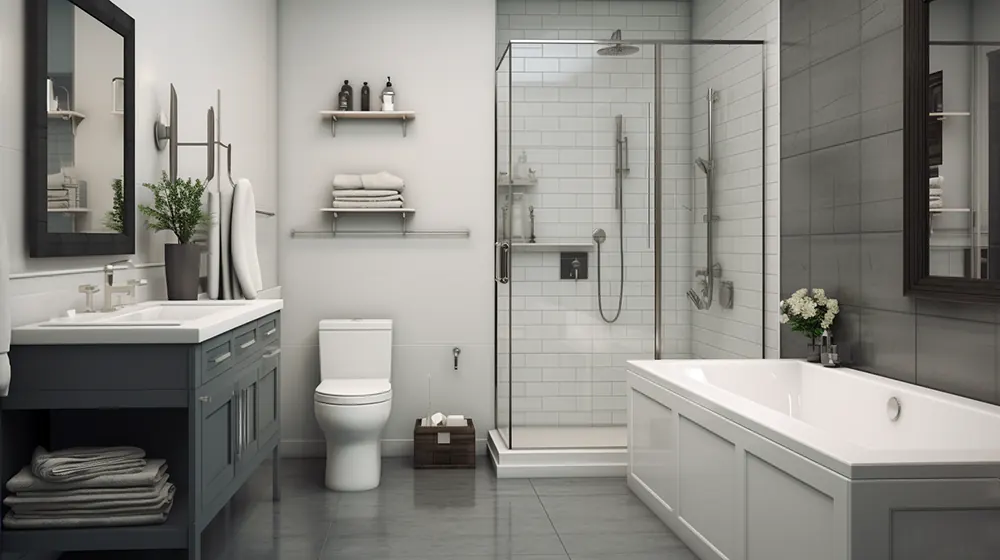 Introduction
Remodeling your bathroom can greatly improve the value of your home. Whether you are looking to update the aesthetic or increase functionality, a bathroom remodel is a worthwhile investment.
However, the overall project cost of a bathroom remodel can vary greatly depending on several factors.
In this guide, we will discuss the average total cost of a bathroom remodeling project in Sacramento and provide tips on how to save money without compromising quality.
Factors Affecting Bathroom Remodel Cost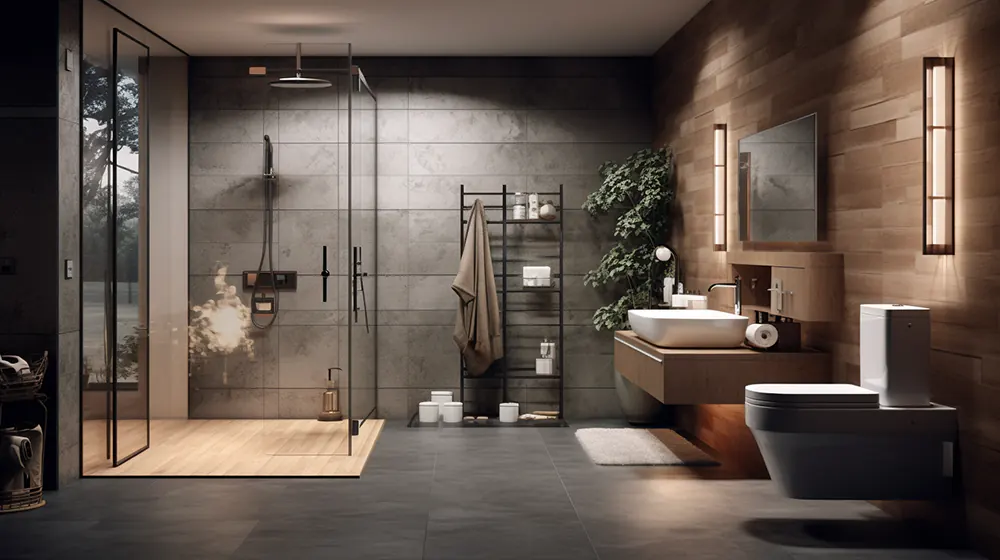 There are a variety of factors that can impact the cost range of a bathroom remodel in Sacramento. Some of these factors include:
Size of the Bathroom: Larger bathrooms require more materials and labor which increases the overall cost. Small powder rooms may require less expensive fixtures and fewer materials, while a large master bathroom could require more expensive items such as a double vanity or a soaking tub. Contractors can charge for materials per square foot, so the more square feet, the higher the cost.
Quality of Materials: The type and quality of materials you choose can greatly affect the cost. High-end materials like natural stone tiles or high-tech features like heated floors will be more costly than more basic choices.
Labor Costs: This can be one of the biggest expenses in a bathroom remodel. Labor costs can vary depending on the complexity of the work and the professional remodelers hired.
Scope of Remodel: A simple refresh, such as painting or retiling, will be less expensive than a full remodel which involves changing the layout of the old bathroom or adding new plumbing.
Unforeseen Issues: Often, once a remodel starts, issues such as mold, water damage, or outdated plumbing can emerge. These unexpected problems can increase the cost of your remodel.
Location: The cost of remodeling can also depend on where you live. In areas with a high cost of living like Sacramento, prices for materials and labor may be higher than in other areas.
Average Cost of Bathroom Remodel in Sacramento
In Sacramento, the average cost for a bathroom remodel ranges from $10,000 for a small, basic upgrade to as much as $40,000 or more for a full, high-end remodel with top-quality materials and fixtures. The median cost falls around $25,000, which usually includes new flooring, fixtures, and tiling. However, these prices can fluctuate based on the factors outlined above such as size, materials, and scope of the remodel.
When figuring out prices for your bathroom remodel cost, always grab multiple estimates to make sure you are getting the best price in your area!
When compared to other areas in the United States, Sacramento falls in the upper-middle range for bathroom remodeling costs. For instance, in regions with lower average costs, like the Midwest, the average bathroom remodel cost can start as low as $6,000 for a basic remodel and can go up to $30,000 for a luxury one. In contrast, in higher-cost living areas such as San Francisco or New York City, bathroom remodel costs can start around $15,000 for a basic remodel, with high-end remodels going well over $50,000.
It's important to keep in mind these are just averages and your remodel could cost more or less depending on the specific factors of your project. Always get multiple estimates and ensure you have a budget in place before beginning your bathroom remodel project.
Reach out to America's Advantage Remodeling to get your remodel done. whatever your problem, inconvenience, and or upgrade is let our team of certified professionals step in and work miracles. We offer Bathroom remodels, kitchen remodels, home remodels, and more. We even install countertops, siding, and a slew of other items for your convenience so you don't need multiple contactors for one job. If you need it we got it, give us a call, email, or contact us directly in the top right of our site.
Types of Bathroom Remodel Projects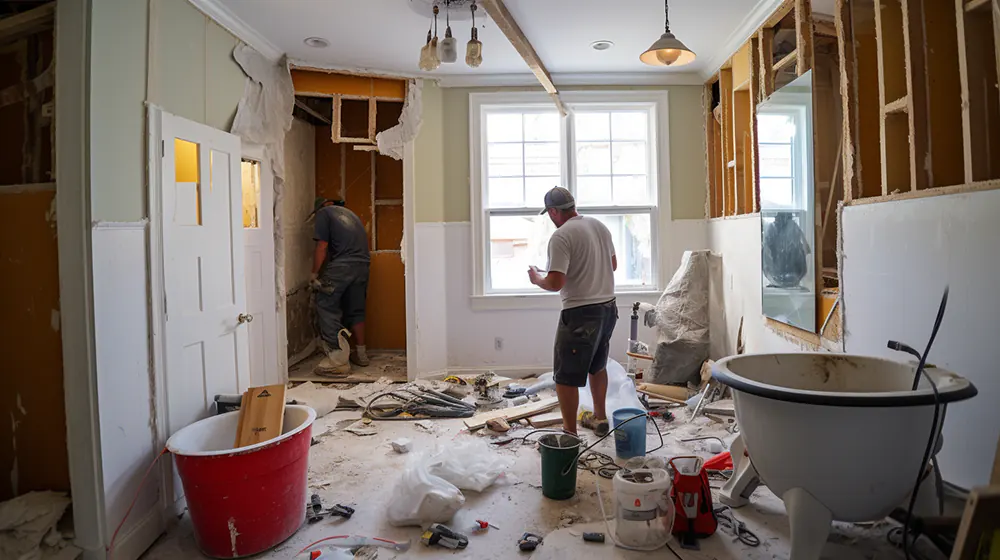 Basic Bathroom Update: In a basic bathroom update, you might replace outdated fixtures, hardware, and other components with more modern, energy-efficient models. This could include a new sink, new toilet, and shower head. You might also paint the walls or replace the flooring if it's worn. This is a budget-friendly option, ideal for those who are content with their current bathroom floor plan, or those looking to remodel a guest bathroom.
Mid-Range Bathroom Remodel: A mid-range remodel might include everything in a basic update, plus a bit more. Maybe you'll install a new tub or a shower with a glass door, add towel bars, put in new tiles, or add stylish storage cabinets. You might opt for higher-quality materials, like ceramic or porcelain tile. Overall, you're improving both the style and function of your bathroom, without drastic changes.
Upscale Bathroom Remodel: An upscale remodel is a complete renovation and redesign. This may involve changing the layout of the bathroom, installing high-end fixtures such as a spa-style tub, a custom vanity, or heated floors. This type of remodel could also include more luxurious finishes and materials, like natural stone or designer tiles. An upscale remodel is ideal for those looking to transform their bathroom into a luxury spa retreat.
Master Bathroom Suite Remodel: This is a remodel of the largest bathroom in the home, typically connected to the master bedroom. You might install a walk-in shower, a jacuzzi tub, or double sinks. You may also add features like a vanity area or a walk-in closet. This type of project can make your master bathroom a luxurious, comfortable space to start and end your day.
Adding a New Bathroom: Adding a new bathroom can greatly increase the value of your home. This type of project will involve hiring a contractor to handle plumbing and electrical work. You'll need to choose all the fixtures and finishes, and possibly work with an architect or designer to maximize space.
Remember, regardless of the type of bathroom remodel you choose, plan for the unexpected. It's a good rule of thumb to set aside 10-20% of your budget for unforeseen issues or changes you might want to make during the process.
Cost-Saving Tips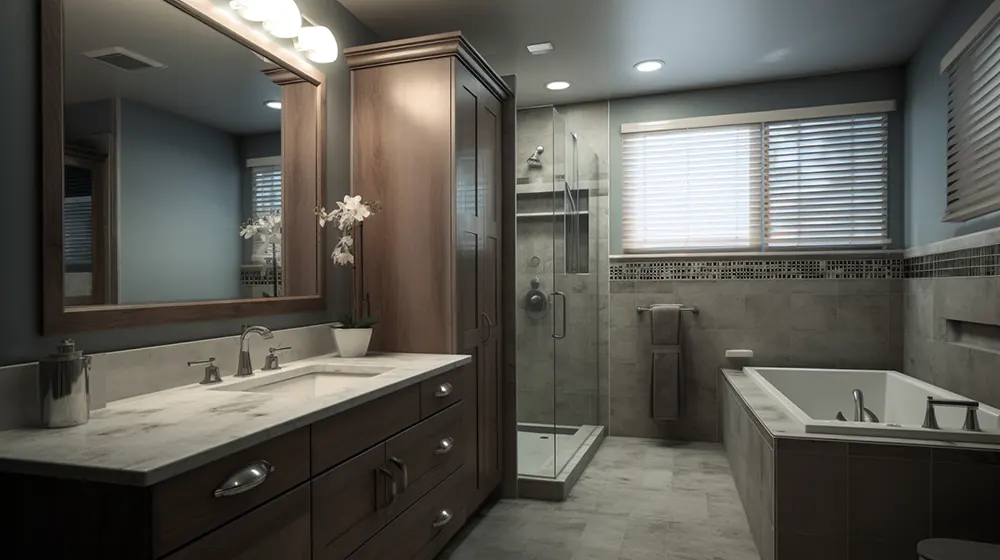 If you are looking to save money on your bathroom remodel, there are some tips you can follow:
Shop around for materials and compare prices
Consider doing some tasks yourself (such as demolition or painting) to save on additional costs
Stick to a basic layout and avoid major plumbing or electrical changes
Prioritize your must-haves and consider postponing non-essential items for a later remodel
Look for deals or discounts on fixtures and materials
Hire a reputable contractor with experience in bathroom remodels to avoid costly mistakes.
Commonly Asked Questions
1. How long does a bathroom remodel usually take?
A bathroom remodel can take anywhere from 2 to 3 weeks for a simple refurbishment, and up to 8 weeks or longer for a more intricate remodel involving complex changes in the layout or plumbing.
2. Can I use my bathroom while it is being remodeled?
It highly depends on the extent of the remodel. For a full remodel, it may not be usable for the duration of the project. However, if you're only updating fixtures or painting, you might be able to use it during certain times.
3. Do I need a permit for a bathroom remodel?
In many areas, including Sacramento, a permit may be required for tasks like major electrical works, plumbing changes, or structural modifications. Always consult with your contractor or local building authority to ensure compliance with local building codes.
4. How can I ensure my remodel stays within budget?
Creating a detailed plan, getting estimates, and setting aside a contingency fund can help keep your remodel within budget. Make sure to prioritize your needs and make decisions based on your financial limits.
5. Can I do a bathroom remodel myself?
While some tasks such as painting or minor installations can be done by homeowners, it is generally recommended to hire professionals for tasks that require specialized skills, like tiling, plumbing, or electrical work.
6. Does a bathroom remodel increase home value?
Yes, a well-executed bathroom remodel can significantly increase the value of your home. On average, homeowners can expect to recoup about 60-70% of the cost of the remodel upon selling their home.
7. What's the difference between bathroom remodels and bathroom renovations?
A full bathroom renovation typically entails making the bathroom look new again without altering its layout or design, while remodeling involves changing the overall design, structure, and function of the space.
8. How can I make my small bathroom look larger?
Implementing a light color scheme, installing a large mirror, and using glass shower doors can all create the illusion of a larger space.
9. What are the most important features to upgrade in a bathroom remodel?
The most important features to upgrade depend on your needs but generally include updating the vanity, toilet, shower/tub, and adding new light fixtures.
10. How do I choose a contractor for my bathroom remodel?
Choose a contractor who is licensed, insured, and has good reviews. Ask for references and photos of their previous work. Ensure they are willing to commit to a timeline and have them provide a detailed estimate and contract.
Conclusion
Bathroom remodels can be a significant investment, but they can also add value and functionality to your home. By considering factors such as location, project type, and cost-saving tips, you can plan and budget for a successful bathroom remodel project.
Remember to always consult with professionals and obtain necessary permits to ensure a safe and well-executed remodel. With proper planning and research through blogs and videos, you can transform your bathroom into a beautiful and functional space that meets your needs and fits within your budget.
So don't hesitate to start planning your dream bathroom remodel today!
Areas We Serve
Certificate