Are you considering remodeling your 10×10 kitchen? If so, the big question on your mind may be, "How much will it cost?" With America's Advantage Remodel, you can put those worries to rest. Our team of experts will work with you to create a custom remodel plan that fits within your budget. From custom cabinets to countertops, we offer a variety of options to transform your kitchen into a beautiful and functional space. So why wait? Let's get started on your dream kitchen today.
America's Advantage Remodel
America's Advantage Remodel is a premier choice for kitchen remodeling, known for delivering excellence in every project. Our seasoned experts leverage their industry knowledge and experience to remodel kitchens with impressive artistry and precision. We believe that each kitchen is unique, just like its homeowners.
As a result, we offer customized kitchen remodel plans that are precisely designed to meet your individual needs and preferences. Incorporating high-quality materials and innovative designs, we turn your vision into reality. Our commitment to customer satisfaction ensures seamless communication, timely completion, and superior workmanship throughout the process.
With America's Advantage Remodel, you don't just remodel your kitchen, you create a space that describes a part of you.
The Total Kitchen Remodel Cost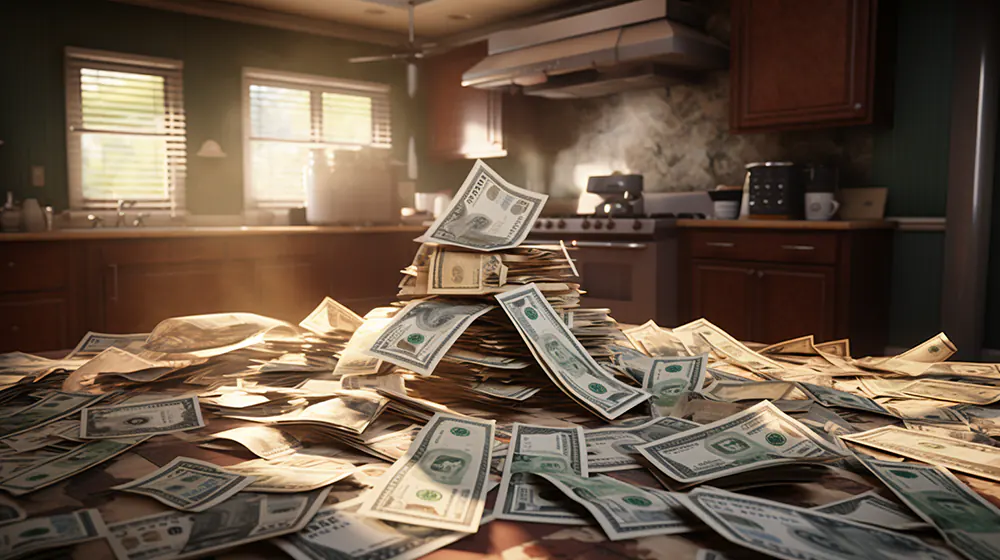 The cost to remodel a 10×10 kitchen can vary widely, based on factors such as the quality of materials, the complexity of the project, and labor costs. However, in Sacramento and surrounding areas, homeowners spend on average between $30,000 to $60,000 for an upscale kitchen remodel. A minor kitchen remodel will cost you less than this if you are only updating a few items.
This includes expenses related to cabinets, countertops, appliances, and installation. It's crucial to remember that these are average costs and the final price can be influenced by your specific selections and any unforeseen complications during the renovation process. At America's Advantage Remodel, we work diligently to ensure we stay within your budget for your kitchen remodeling project.
The Cost Break Down
The 10 x 10 kitchen remodel cost at $60,000 can be intimidating to look at, but it's essential to understand how that cost is broken down. We are going to go through the cost of the basics and essentials of a kitchen remodel to help you better understand the cost of this remodel. Going through this run-down might help you figure out how to make your remodel cheaper as well.
Kitchen Appliances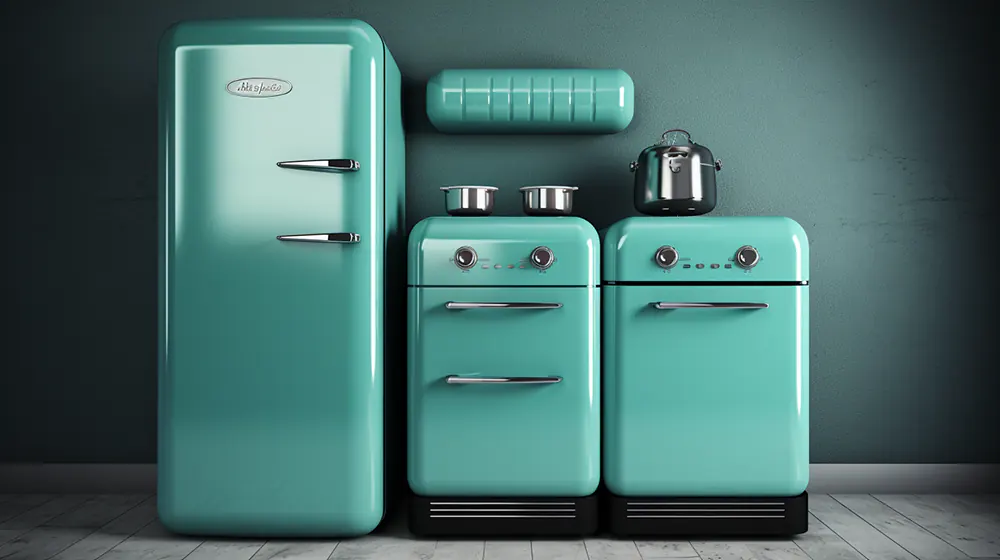 A significant part of a kitchen remodel is updating your kitchen appliances. Here are some of the usual appliances that homeowners tend to replace and their average costs:
Refrigerator
When it comes to purchasing a new refrigerator, there are various options available to suit different budgets and preferences. For those looking for a basic model, you can find one starting at around $900. However, if you're interested in a high-end refrigerator with smart features, the price can go up to $2,500.
Range Stove
On average, the cost of a new stove ranges from around $650 for entry-level models, which offer basic features and functionality, to approximately $2,000 for professional-grade ranges that boast advanced cooking capabilities and high-end design elements. There may be an added cost for new gas lines or repaired gas lines.
Dishwasher
A new dishwasher, on average, typically costs between $400 and $700. However, it's worth noting that higher-end models with advanced features and cutting-edge technology can exceed the $1,000 mark. It's important to consider your specific needs and budget when making a selection from the wide range of options available in the market.
Microwave
A standard microwave oven, known for its convenience and versatility, can be found for as little as $50. On the other hand, for those seeking advanced features and cutting-edge technology, high-end models boasting superior performance and sleek designs can be priced as high as $500. With a wide range of options available, there is a microwave oven to suit every budget and culinary requirement.
Sink & Faucet
When it comes to investing in a quality kitchen sink, you can expect to find options that range in price from around $200 to $500. Similarly, a faucet set typically falls within the price range of $100 to $350. By considering these price points, you can find the perfect combination of functionality and style that suits your budget and kitchen needs.
These are average costs for new appliances, and the actual price you pay can vary based on specific features, brands, and deals available at the time of purchase. It's also important to note that these costs don't include installation, which can add to the overall price.
Kitchen Countertops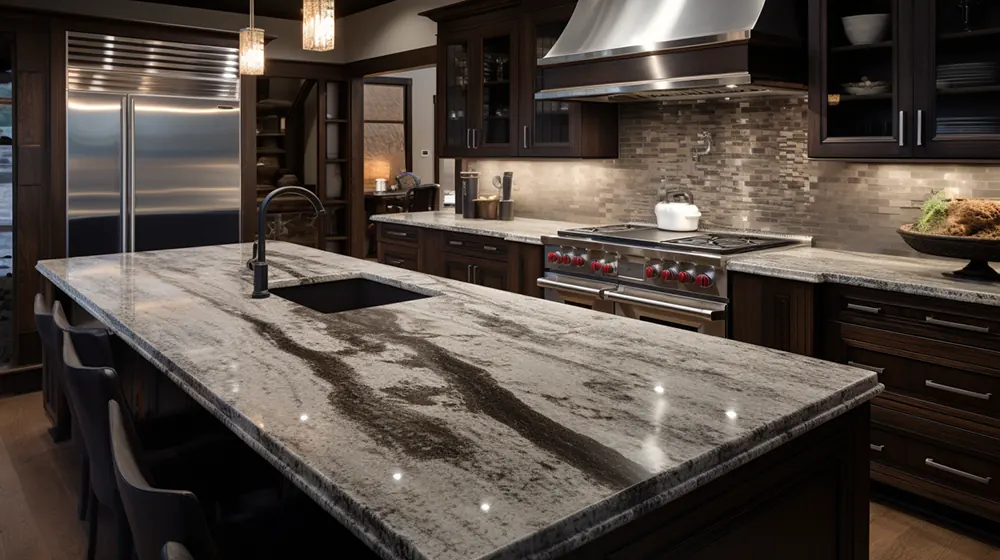 Upgraded countertops are a key component in any kitchen remodel, providing both aesthetic appeal and functional utility for things such as food preparation. Various types of countertops are available in the market, each with its own unique attributes and cost implications. You will see how granite countertops compare to quartz and laminate countertops.
Granite Countertops
Granite countertops are a popular choice due to their beautiful, natural appearance and robust durability. Each slab of granite is unique, offering an array of colors and patterns. Granite is heat and scratch-resistant, making it ideal for kitchens. However, it requires periodic sealing to prevent staining. Prices for granite countertops can range from $40 to $200 per square foot, including installation. kitchen remodel cost gas l
Quartz Countertops
Quartz countertops offer a high-end look similar to natural stone but are more uniform in appearance and require less maintenance. They are non-porous, making them resistant to staining and eliminating the need for sealing. Quartz countertops are also very durable but can be susceptible to heat damage. The cost of quartz countertops typically falls within the range of $50 to $120 per square foot, including installation.
Laminate Countertops
Laminate countertops are a budget-friendly option, available in a variety of colors and patterns. While they may lack the natural appeal of stone countertops, modern laminates can convincingly mimic their appearance. Laminate countertops are not as durable as stone and can be susceptible to scratching and heat damage. Prices for laminate countertops are usually within the range of $20 to $60 per square foot, including installation.
Lighting Fixtures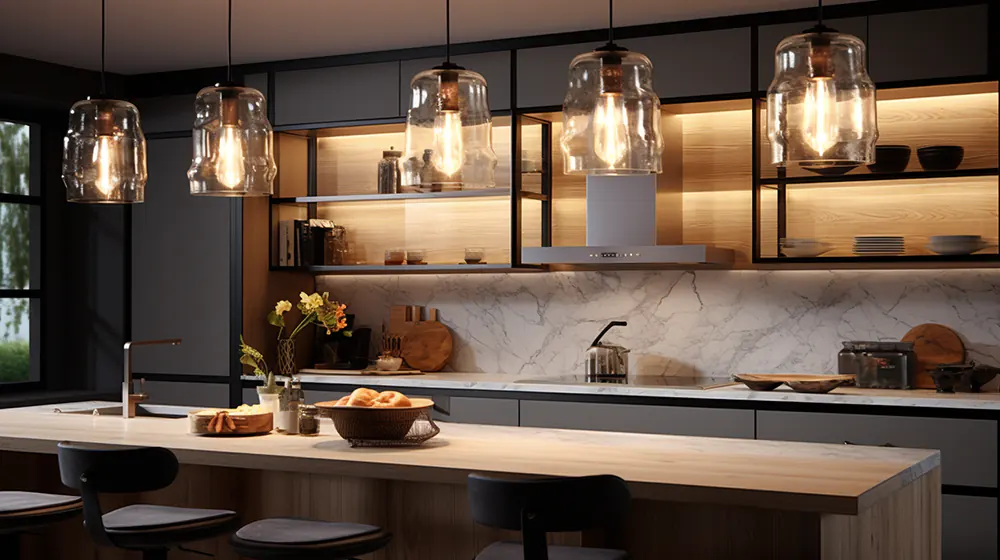 Proper lighting brings out the best in a kitchen, enhancing its aesthetic while increasing its functionality. Upgrading your kitchen lighting fixtures can dramatically transform the space, making it appear more spacious and welcoming. There are three main types of lighting fixtures typically used in kitchen remodels – ambient, task, and accent lighting.
Ambient Lighting
This is the main source of light in your kitchen, often coming from flush-mounted ceiling fixtures, ceiling fans, or chandeliers. Upgrading to LED ambient lights can save you on energy bills as they consume less energy and last longer than traditional bulbs. On average, the cost for ambient lighting fixtures ranges from $100 to $400, excluding installation costs.
Task Lighting
Task lighting focuses on specific areas, like countertops or cabinets, where you perform tasks like cooking or reading. Under-cabinet lighting is a popular form of task lighting. It helps eliminate shadows and brighten your workspace, making kitchen tasks safer and easier. Task lighting fixtures can cost anywhere between $50 and $200.
Accent Lighting
Accent lighting is used to highlight particular features or areas of your kitchen, such as a stylish backsplash or artwork. They add depth and dimension to your space, making it feel more luxurious. Accent lighting fixtures, like track or recessed lights, can cost between $100 and $300.
Flooring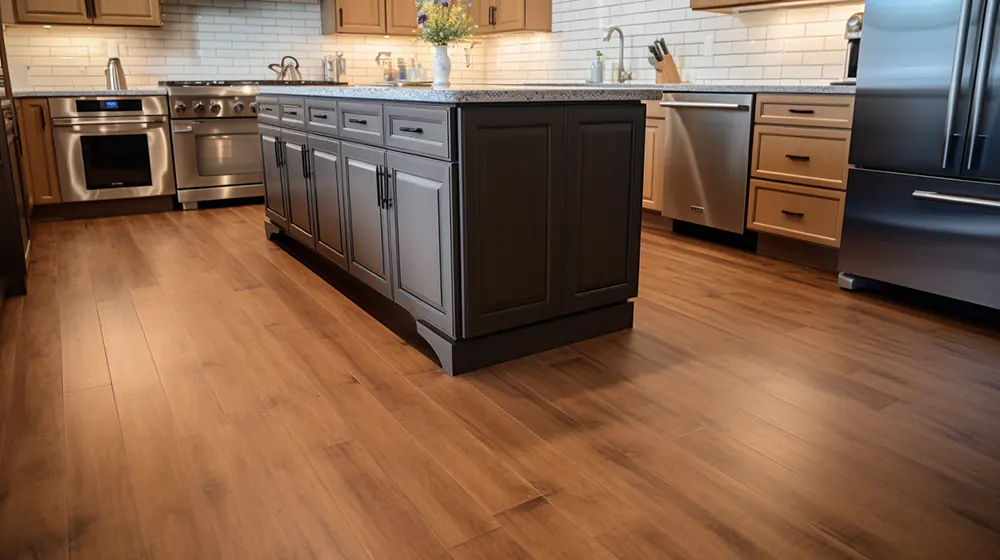 Kitchen flooring forms the base of your culinary space and significantly contributes to the overall aesthetic and functionality. It is vital to choose a kitchen flooring material that not only complements the design of your kitchen but also withstands heavy foot traffic, spills, and drops.
Hardwood Flooring
Hardwood flooring offers a timeless elegance and can substantially boost the value of your home. It is durable and can last for decades with proper care. However, hardwood can be susceptible to water damage and scratches. The average cost for hardwood flooring can range from $6 to $12 per square foot, excluding installation costs.
Ceramic Tiles
Ceramic tiles are another popular choice for kitchen flooring due to their durability and water resistance. They are available in a wide variety of colors and designs, offering high versatility. Ceramic tiles can be somewhat cold and hard underfoot. The average cost for ceramic tile flooring ranges from $1 to $20 per square foot, not including installation.
Vinyl Flooring
Vinyl flooring is a budget-friendly option that offers high resistance to water and stains, making it ideal for kitchens. It's comfortable underfoot and available in a variety of designs. However, vinyl can be prone to rips and tears. The average cost for vinyl flooring can range from $2 to $8 per square foot, excluding installation costs.
Kitchen Cabinets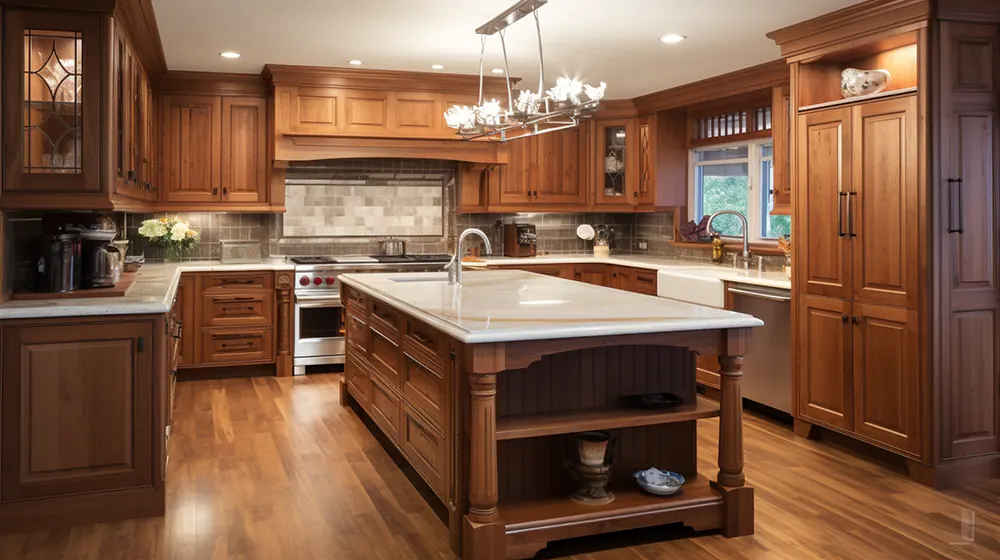 Kitchen cabinets finally are the going to be the most expensive part of the kitchen remodel. Factors such as construction method, materials, and finishes play a significant role in the cost of new cabinets. On average, homeowners spend between $15,000 to $30,000 on kitchen cabinets for a full remodel. However, if you're looking for more affordable options, there are ways to cut costs without compromising on quality and design.
There are different types of cabinets that you can order and install which can affect the pricing and possibly save you some of the money. Here are some different options that you can choose from:
Custom Cabinets
Custom cabinets are a popular choice for homeowners seeking a personalized touch in their kitchen remodel. They offer infinite design possibilities, allowing you to specify the exact dimensions, materials, finishes, and configurations to seamlessly fit your kitchen layout and style. This level of customization ensures a unique aesthetic appeal and superior functionality tailored to your specific needs, such as specialized storage units or integrated appliances.
However, the high degree of customization comes with a significantly higher price tag compared to off-the-shelf or semi-custom cabinets. On average, custom cabinets can range from $500 to $1,200 per linear foot. Keep in mind, these costs can increase depending on the choice of wood, finish, hardware, and any intricate design details. Despite the higher upfront costs, many homeowners consider custom cabinets a worthwhile investment due to their durability, superior craftsmanship, and the value they add to the home.
Wood Cabinets
Wood cabinets offer a timeless and versatile look in any kitchen style, whether traditional or contemporary. They are favored for their strength, durability, and the natural beauty they lend to the space. Wood cabinets come in a variety of types, including hardwoods like oak, maple, and cherry, and softwoods like pine. One of the key benefits of wood cabinets is their ability to be refinished or repainted, which can significantly extend their lifespan and adapt to changing kitchen styles over time.
When it comes to cost, there's a wide range depending on the type of wood used and the construction method. On the lower end, you might expect to pay around $100 to $300 per linear foot for stock or semi-custom wood cabinets. For high-end custom wood cabinetry, prices can soar to $500 to $1,200 per linear foot. These costs can also vary depending on the finish selected, with painted or glazed finishes typically costing more than a standard stain.
Stock Cabinets
The primary advantages of stock cabinets include their lower cost and quick availability. Unlike custom cabinets, which are built from scratch, stock cabinets are mass-produced, resulting in substantial cost savings. Plus, they're typically ready for immediate shipment, eliminating the lengthy wait times associated with custom and semi-custom cabinets.
In terms of cost, stock cabinets are the most affordable option and generally range from $60 to $200 per linear foot, depending on the material, style, and finish you choose. However, it's important to note that while they are less expensive upfront, stock cabinets may not offer the same durability or unique aesthetic as their more costly counterparts. Nevertheless, with proper care, they can still be a long-lasting and visually appealing addition to your kitchen remodel.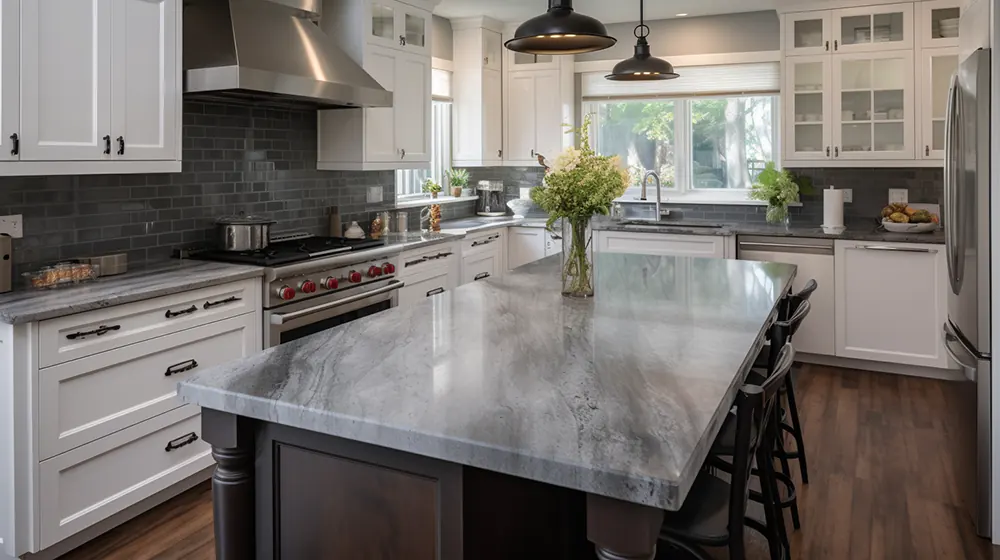 Conclusion
In conclusion, a 10×10 kitchen remodel is a significant investment that can greatly enhance the functionality, aesthetic appeal, and value of your home. The cost of a remodel varies widely depending upon the choice of flooring, cabinets, and other factors. America's Advantage Remodel is here to help you figure out what you need, what you want, and how to proceed in the best way.
Remember to do thorough research by watching videos and reading blogs for remodels from reputable sources, prioritize your needs, and consider all options before making any decisions.
People Also Ask
Is a 10×10 kitchen small?
A 10×10 kitchen is 100 square feet. This is an average sized kitchen in most homes. This is the size most kitchen remodel estimates can be made on.
What is the most expensive part of a kitchen remodel?
The most expensive part of a kitchen remodel is the cabinets. Cabinets can account for up to 40% of the total cost of a kitchen remodel.
Areas We Serve
Certificate