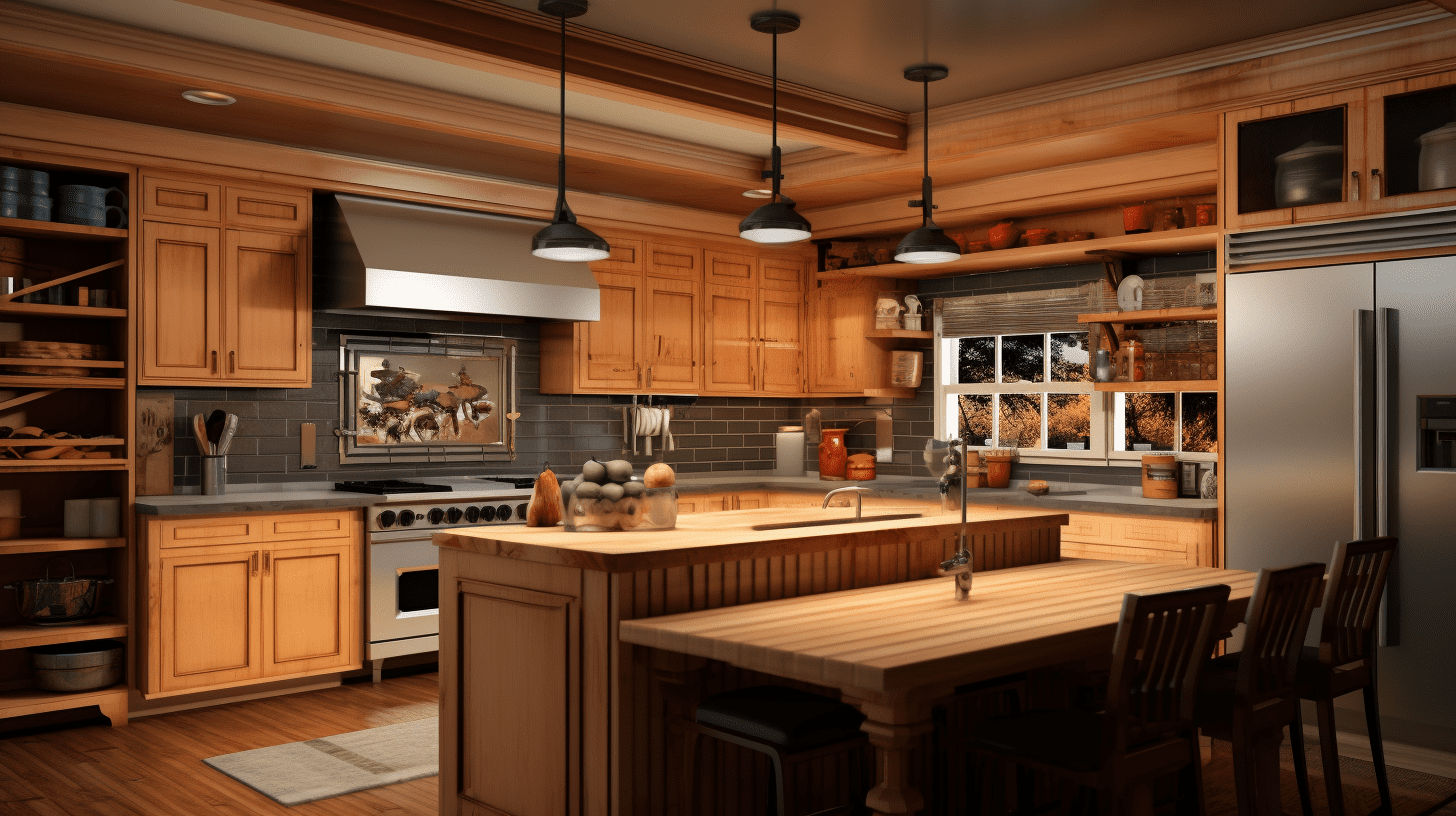 Are you tired of the outdated design and inefficient layout of your kitchen? Do you dream of a modern, fully functional space where you can cook and entertain like a pro? If so, a kitchen remodel may be just what you need. But before you get started, you're probably wondering, how long does it take to remodel a kitchen? You can watch all the home remodeling programs on the television but you do not always get a realistic timeline of what happens during those home renovation projects.
Money can come and go but time will never come back. The answer, of course, depends on a variety of factors. In the following paragraphs, we'll explore what goes into a kitchen remodel and help you determine a realistic timeline for your project.
How Long Does a Kitchen Remodeling Project Take on Average?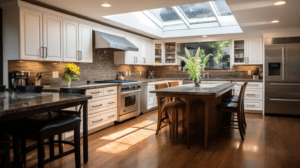 On average, a full kitchen remodel can take anywhere from 6 to 8 weeks to complete. This kitchen renovation timeline is for a complete overhaul of an average-sized kitchen, which includes demolition, installation of new cabinets and appliances, electrical and plumbing work, and finishing touches like painting and tiling.
However, this timeline is a general estimate and actual durations can vary depending on the specific project scope, design complexity, and unforeseen problems that may arise during construction. It's important to allow a few more weeks for unexpected delays. For a larger scale kitchen renovation or an average scaled remodel with major structural changes you can expect up to 10 to 12 weeks of work.
Kitchen Remodeling Process Broken Down
Are you ready to finally tackle that kitchen remodel you've been dreaming about? It can be daunting to even know where to start, but don't worry! With a bit of planning and organization, you can break down the process into manageable sections. From designing your dream space to installing new fittings and fixtures, there are seven key areas to consider when embarking on a kitchen remodel.
But fear not, we'll be focusing on the most important section and taking a closer look at each task involved, so you can get an accurate estimate of how long your remodel might take. So let's dive in and discover the secrets to transforming your kitchen!
1 | Cabinets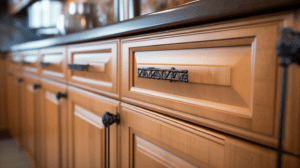 An average installation for standard cabinets in a standard kitchen would typically take between 3-5 days. This timeline, however, assumes that the cabinets are pre-assembled. If you opt for custom cabinetry, which is built onsite, it could extend the process by a week or more. It's vital to remember this time frame could extend if complications arise, such as issues with the alignment of the cabinets or the walls not being level. The size of the kitchen matters as well; a larger kitchen can take up to two weeks to complete remodeling cabinetry.
Why You Should Remodel
Cabinets are one of the essentials in a kitchen. Cabinets are the unsung heroes of any kitchen. Not only do they serve as the backbone of storage for all of our pots, pans, and dishes, but they also play a major role in the overall design and functionality of our kitchens. From sleek and modern to classic and traditional, cabinets offer a wide range of design options to fit any taste or style.
But beyond aesthetics, they provide immense value to our lives as homeowners. Organized and efficient storage can make a world of difference in the ease of our day-to-day routines, and well-constructed cabinetry can add significant value to our homes. When we invest in quality cabinets, we are making an investment in our homes and quality of life.
2 | Appliances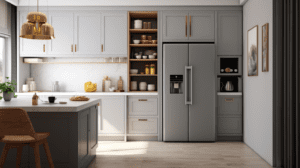 On average, installing new appliances in a kitchen remodel can take anywhere between 1 to 5 hours per appliance. This timeframe depends on the complexity of the installation as well as the type and number of appliances being installed.
For instance, a freestanding range might take less time to install compared to a dishwasher, a built-in refrigerator, or a stove with gas lines. Plan for a full day or even multiple days if you're installing several appliances, and always remember that hiring a professional installer can help ensure the job is done accurately and safely.
Why You Should Remodel
From stovetops and ovens to refrigerators and dishwashers, good kitchen appliances not only make your life easier but also contribute to a healthier and happier lifestyle. A high-quality oven and stovetop can help you prepare delicious and nutritious meals, while a reliable dishwasher saves you time and energy on cleaning up.
And of course, a well-functioning refrigerator can ensure that your food stays fresh and safe for consumption. Therefore, investing in good kitchen appliances is essential, as it makes cooking, eating, and cleaning seamless, hassle-free, and enjoyable.
3 | Tile Backsplash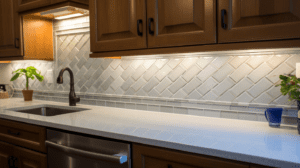 On average, removing an existing tile backsplash and installing a new one in a kitchen renovation project can take about 2 to 4 days. This estimate includes time for removing the old tiles, preparing the wall, laying out the new tiles, applying the adhesive, setting the tiles, and finally, grouting and sealing. However, the actual duration can vary depending on the size of the area, complexity of the tile design, and unforeseen challenges that may arise, such as finding damage behind the old tiles that needs to be fixed before the new backsplash can be installed.
Why You Should Remodel
A kitchen backsplash is a prominent feature in any kitchen, and it plays an essential role in protecting the walls from water, steam, and grease. Installing a tile backsplash is a worthwhile investment that will enhance the visual appeal of your kitchen while adding value to your home. Aside from being aesthetically pleasing, tile backsplashes also offer numerous benefits, such as durability, ease of cleaning, and protection against damage caused by heat and moisture.
Not only does it protect your walls from stains and bacterial growth, but it also provides an opportunity to express your creative side and add a personal touch to your kitchen décor. With so many tile designs to choose from, you can create a unique and stylish look that reflects your personality and complements your kitchen's color scheme.
4 | Light Fixtures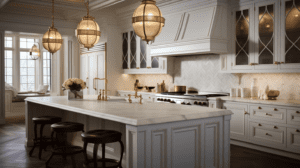 Updating light fixtures in a kitchen remodel on average can take up to 2 to 4 hours per fixture, depending on the complexity of the installation. This estimation accounts for removing the old fixtures, wiring the new ones, and ensuring that the electrical wiring is installed accurately and safely.
If you aim to add recessed lights or pendant lights where no previous fixtures existed, the process may take longer due to the need for additional wiring and ceiling work. Always remember to hire a licensed professional electrician for this task to guarantee safety and proper installation.
Why You Should Remodel
Light fixtures play an essential role in the overall aesthetic and functionality of your kitchen. They provide the necessary illumination for cooking tasks and add ambiance to the environment. Replacing old or outdated fixtures can drastically improve the look of the kitchen and enhance the mood and overall feel of the space. Plus, with the variety of styles, shapes, and finishes available, you can find light fixtures that perfectly match your kitchen's design theme.
5 | Countertops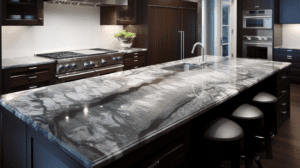 On average, the process of replacing countertops during a kitchen remodel can take anywhere from 1 to 2 days for pre-made countertops. However, if you're opting for custom countertops, the process can take up to a few weeks. This time frame includes removal of the old countertop, preparation of the area, installation of the new countertop, and sealing if necessary.
Keep in mind that this is a broad estimate, and the actual time can vary based on factors such as the size of the countertop, the material chosen, and any unexpected issues that may arise during the process.
Why You Should Remodel
Countertops are often overlooked when renovating or building a home, but they play a vital role in the functionality and appearance of a kitchen or bathroom. Having good countertops can completely transform the look and feel of a space, making it more sophisticated and inviting. Not only do they provide a stylish touch to your home, but they also serve as a functional work surface for everyday tasks such as prepping food and doing homework.
Additionally, good countertops are durable and easy to clean, which can save you time and money in the long run. The investment in quality countertops is worth it, as they can significantly increase the value of your home.
6 | Flooring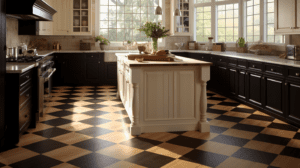 On average, replacing flooring in a kitchen remodel can take between 4 to 8 days. This duration varies based on the type of flooring material chosen, the size of the kitchen, and whether or not there are any complexities such as removing old flooring or repairing subfloors.
If you're choosing a material like vinyl or laminate, the installation process may be quicker, while natural stone or hardwood flooring can take longer due to the meticulous detail required in laying and sealing. Also, remember that custom or intricate flooring designs might extend the installation time.
Why You Should Remodel
When it comes to giving your home a new lease on life, few things can make a bigger impact than updating your flooring. Whether you're dealing with outdated carpet, scratched hardwood, or dingy tile, investing in new flooring can completely transform the look and feel of your space. But the benefits of remodeling your flooring go beyond just aesthetics.
New flooring can improve air quality by reducing allergens, increase your home's value, and even lower your energy bills by ensuring better insulation. So whether you're looking to sell your home or simply spruce up your living space, a flooring remodel is a smart investment that can benefit you in countless ways.
7 | Hardware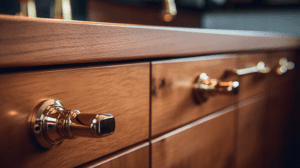 On average, replacing hardware in a kitchen remodel, including pulls, knobs, and hinges, can take anywhere from a few hours to a couple of day's depending on the amount you are replacing. This estimate assumes a straightforward swap of old hardware with new ones, and can vary depending on the number of cabinets and drawers, the complexity of hardware, and whether any adjustments need to be made to accommodate new hardware sizes. If the new hardware does not match the hole alignment of the old ones, additional time may be required to fill in the old holes and drill new ones.
Why You Should Remodel
With the right hardware, you can open and close your cabinets with ease, avoiding the frustration of stuck or squeaky doors. Additionally, new handles and knobs can make your kitchen safer by avoiding accidents like getting caught on clothing or loose hardware. So, it's time to bid farewell to those old and worn-out pieces and embrace the advantages of upgrading your kitchen hardware.
Schedule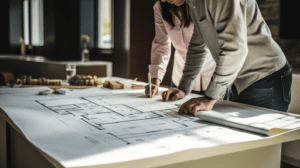 Kitchen remodels can be an exciting project, but without proper planning pre-construction, and a project timeline, it can quickly turn into a nightmare. It's essential to have a plan in place before beginning a renovation to ensure that everything runs smoothly, and the project is completed in a timely manner.
With a clear construction schedule, you'll be able to stay on track and avoid any potential delays or complications. Not only does this help you to save time and money, but it also gives you peace of mind, knowing that your kitchen remodel is progressing as planned.
Whether you're working with a professional kitchen contractor, or project manager, or taking on the project yourself, investing time in creating a construction schedule will pay off in the long run. So why wait? Start planning your kitchen remodel today and get ready to enjoy a beautiful new space that you'll love for years to come.
People Also Ask
How long do most kitchen remodels take?
On average, a full kitchen remodel can take anywhere from 6 to 8 weeks to complete. This kitchen renovation timeline is for a complete overhaul in an average size kitchen, which includes demolition, installation of new cabinets and appliances, electrical and plumbing work, and finishing touches like painting and tiling.
Is a kitchen remodel stressful?
A kitchen remodel can be stressful but it does not have to be. With proper planning and keeping the project organized can help reduce the stress that comes with a big project.
What is the hardest part of a kitchen remodel?
The hardest part of a kitchen remodel is starting. Once you get the ball rolling and start planning the changes you will make it becomes easier from that point moving forward.
Conclusion
In conclusion, the process of remodeling a kitchen is a significant undertaking, with multiple aspects to consider from countertops, and flooring, to hardware. Each component contributes to the overall functionality and aesthetic appeal of your space. With careful planning, attention to detail, and patience, the renovation process can lead to a transformed kitchen that not only enhances your home's value but also improves your quality of life. It's crucial to remember that while it can be a stressful endeavor, the rewards of a beautifully remodeled kitchen are well worth the investment.
Contact AAremodels
Here At AAremodels (Americas Advantage Remodeling) we specialize in bathrooms, Kitchens, flooring, and more. If getting a home remodel is something you are interested in take advantage of AAremodel. Our specialized time would love to help. you can reach out to us via phone (916) 702-3941 through our email [email protected] Or directly off our site with the Contact Us button in the top right. Whatever your question is we want to help.
Areas We Serve
Certificate